In the afternoon of March 8, 2019, shepherd held a product conference of VR fashion design software hologarment, which is a fashion design software developed on the basis of Microsoft hololens. Driven by the development of science and technology, shepherds have launched innovative products in the textile industry, combining a variety of technologies such as hybrid reality, artificial intelligence, big data and cloud computing, and following the pace of the times and national policies, opening a new operation mode for the textile industry.
Zheng Qi, the creative and marketing director of shepherd, shared the concept source of the product at the press conference. As a fabric and clothing factory, shepherd takes months from receiving designer's manuscript to final sales sample. Redundant steps and ambiguous communication waste a lot of time and materials. Based on the concept of sustainable fashion industry development, Zheng Qi thought of virtual proofing and VR fashion design with augmented reality technology.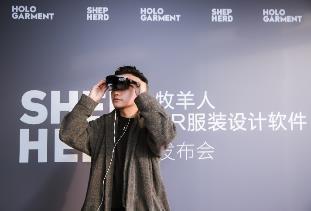 Shepherd hopes that the introduction of this software can shorten the communication distance between designers and factories with high technology. It means that manufacturers in different cities or even different countries can wear hololens at the same time, present the hologram, see the virtual human body model and clothing display simultaneously, and discuss or modify the VR design and production details in real time through the network and cloud computing technology. Users can use gestures to directly adjust the size of each detail of clothing, and synchronously display the data in the clothing process sheet for real-time recording. This software will make the communication process visual, more concise and clear, and greatly improve the efficiency.
Hologarment is currently a revolutionary innovative product serving the textile and design industries. Although the textile and clothing industry is well known to the people's livelihood, its development and change are still out of the sight of the masses. It is one of the important industries of GDP growth in China with 40 years of reform and opening up. Shepherds hope that in the future, with the joint efforts of hologarment and Chinese designers, we can make "made in China 2025" a real label pursued by the people of the world, and let science and technology change Chinese design.
Shepherd is not only the first textile enterprise in the world to use the mixed reality technology, but also the first one to combine the latest technology, traditional design and clothing manufacturing. A series of industrial transformation and upgrading have developed rapidly since the concept of "industry 4.0" was formally put forward. The product launched this time, more "design batch personalization" is initially integrated into the hologarment products, eager to achieve the new energy of the industry in the next stage.
In the future, shepherds will continue to explore more intelligent technology products, continuously develop independent intellectual property rights, and tap the infinite possibility of industrial innovation.